DESIGn
We design to augment Human experiences.
We study human behavioral patterns and blend them with information architecture, and data science to design a great 'user experience'.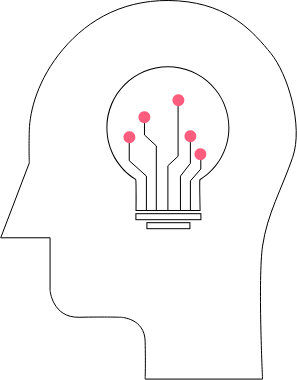 What do we serve ?
We help you design
a simple idea into an
enduring vision.
HOW WE DO IT ?
Putting an extra bit of effort at every step.
Learning and Observing
We first learn and observe your problem to incorporate logic and detailing in our solution at every point of the designing process.
Ideating
We think, scribble, sketch a lot to step beyond the obvious solution and therefore increase the innovation potential of solutions. 3 Stages we follow while ideating: Conceptualize - Practicalise - Criticise
Iterating
There is no shortcut to an awesome design. We step in our client's shoes and collaborate to recognize the case and develop a prototype and take user behavior into consideration.
Testing
We use multiple testing techniques for our finished products. We seek to fine-tune the details of our designs. We test the overall usability of the product with high-fidelity, fully functional digital prototypes that look and behave just like the real thing.
To know more read our blog
tools we use