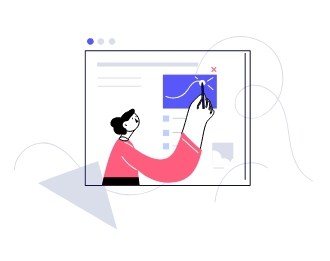 Reason Why You Are A Rookie In Applications Of Neuromarketing
Given the marketing competition today, Darwin might be somewhere up there smiling to himself, thinking, " Survival of the Fittest applies to much more than just evolution! "
Application of Neuromarketing is the life jacket to survive the high tides of the marketing competition and make it to the consumer shore.
Case Studies are to us, what stories are to kids. They make a concept lucid and interesting to understand. So, through the case study of Amul, we're going to understand the concept and value of neuromarketing and some of its most important aspects.
Why Amul?
Out of more than 600 Dairy brands in India, almost every Indian consumer that goes to a shop to fetch some dairy products, directly asks for Amul, without any contemplation or second thoughts, despite several other products having more or less the same taste, quality, and price!
Amul owns 85% share in Butter market, 65% share in Cheese with Market Leader and a 63% share in infant milk.
Amul has been awarded the Guinness World Record for the longest running advertising campaign. The Amul girl – a cartoon figure, is used by the company to promote their brand. Amul's Utterly Butterly girl has managed to keep her fan following intact for more than half a century!
Good news for Chandler Bing – researchers have now said that sarcasm in fact displays the highest form of intelligence. In fact, even according to research in the field of Neuromarketing, humour, sarcasm and wit in an advertisement increases ad and brand recall, specially among youths.
As you must've noticed, Amul generally uses the current news scenario with a bit of sarcasm and wit for its promotion which usually connects with the audience well.
Amul Milk adverts have the tagline "Amul Doodh Peeta Hai India (India drinks the Amul Milk)".
There are commercials that encourage the children to drink the milk and they say "Amul raises a glass to child power". Another one is about Women empowerment that says "Amul raises a glass to India's Women power." And then there is "Aage Badta Hai India… Amul doodh peeta hai India".
Psychology says that human beings always like to be acknowledged and appreciated, which is something that Amul does through its ads. It makes people of all ages feel special and noticed, which helps the brand always be at the top of the minds of people!
Amul started the tagline 'Taste of India' and taught Indians how butter could be used in our day to day life and that it's not something that's only a part of the English breakfast.
It created the requirements of its products. In this case, Amul also came up with the famous Amul song 'Sapne ho gaye hai sakar' where it showed how the brand works and connects all the milk producers in Gujarat. This ad further reinforced what Amul has done for India and hence became very popular among the Indians. After all, who wouldn't like a brand that's associated with pride and prosperity of his or her country?
As we know, Indian culture and tradition is one where family is given utmost importance, unlike American individualistic culture.
Hence, when the target audience is family-oriented, neuromarketing research says that advertisements involving families lay a great impact, especially those creating an emotional connection with the audience.
Amul had launched the "Har Ghar Amul Ghar" campaign in January 2014 as a part of its social media strategy to reach out to a new generation of consumers in the digital media.
The ads are a line of films, beautiful and emotional stories centered around families, with funny twists.
For instance:
"Har Ghar Amul Ghar" – Is a drama comic on parenting.
"Pehla Pyaar, Amul Pyaar" – Is about how 2 teens fall in love.
"Har Bachpana Amul Bachpana" – IIs on how grandparents are still like kids.
"Har Dosti Amul Dosti" – Is on the friendship of 3 Old People.
"Har Umar Amul Umar" – Is on neighbors of different ages (a kid and an old uncle) and how they get close.
Once again, applications of neuromarketing has come to play!
Moreover, Amul, just like the findings of Neuromarketing, has successfully broken the popular myth that having celebrities endorse a brand leads to higher sales.
Without having a public figure endorse it for millions, Amul ads and their concepts are captivating in themselves. The appeal of the ad lies in its simplicity. There is clarity in the message. In 2011, Amul was named the Most Trusted Brand in the Food and Beverages sector in The Brand Trust Report published by Trust Research Advisory on 18th January 2011. Amongst India's top 20 brands, Amul has maintained to be in the top 5, even with such heavy marketing competition and clutter!
Moral of the story: apply neuromarketing is the key to make your company/brand the Amul of your arena! Reach out to us now!
---
Neuromarketing is the process of researching the brain patterns of consumers. Learn all about neuromarketing, and it's common myths.
Subscribe Now
to access this and much more…
---